Home

Tracing Military Ancestors
Travel Advice
CWGC Cemeteries
Iron Harvest
News
Book Reviews
Glossary
Links
Contact Me

Vosges:



The Vosges Mountains and Alsatian Battlefield - A Brief History
Contents
There are very few accounts of the fighting in the Vosges Mountains and Alsace available in the English language. The following is, therefore, only a very brief overview of the main actions in the region during the First World War and the author hopes to expand on this at a future date as he undertakes further research. Most of the information below is taken from the original The Great War, A History series of the period edited by Frank A. Mumby, A Military Atlas of the First World War edited by Arthur Banks and The 1914 Campaign by David Daniel.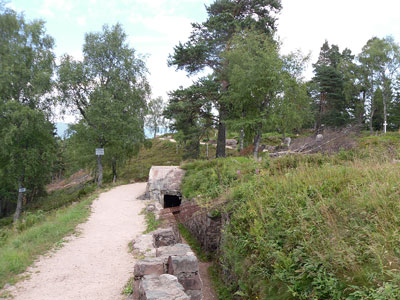 Le Ligne. Photo © Ian Carruthers. Click on image for full size (382 KB).
By way of the historical context of this region, both Alsace and Lorraine, France's eastern-most provinces adjacent to the River Rhine and the German border, had been annexed by Germany following the conclusion of the Franco-Prussian War of 1870. This had ceded to Germany the important defensive feature of the Vosges Mountains as a bulwark protecting the Rhine and the French were forced to pull their army back to the west and concentrate on their fortresses of Toul, Épinal and Belfort.
In order to remove this shame on their nation, the key French aim in any future war was to recapture Alsace and Lorraine as quickly as possible. Their plan, known as "Plan XVII", assumed that this war would be fought across common borders and called for five armies, the vast majority of their troops and artillery, to move directly into the lost provinces. When war broke out, Joffre, the French Commander-in-Chief, following Plan XVII, ordered immediate attacks by de Castelnau's Second Army into Lorraine between the Vosges Mountains and Verdun. He ordered Dubail's First Army to move up through the "Belfort Gap" to take Mulhouse (Mülhausen) before advancing on Colmar and the Rhine as well as securing passes through the Vosges Mountains. What he could not know was that under the Schlieffen plan, the Germans would make a massive wheeling advance through Belgium to the north-west. The French forces were effectively advancing into a huge trap.
N.B. In the various texts above, both French and German place-names are used. This can prove a little confusing when describing the events in the region. Where place-names are stated in both languages I have put the German, which was commonly used pre-First World War, in brackets at the first mention. Interestingly, unlike in Flanders, where French place-names have been replaced wholesale in Flemish-speaking areas, in Alsace many German place-names still exist alongside their Gallic neighbours.
---