Home

Tracing Military Ancestors
Travel Advice
CWGC Cemeteries
Iron Harvest
News
Book Reviews
Glossary
Links
Contact Me

Battlefields:




The "Iron Harvest" – A Warning
The unprecedented use of artillery during the First World War left the landscape of northeastern France and Belgium littered with unexploded ordnance. Even today local farmers regularly unearth munitions, known as the "iron harvest" during ploughing season. In fact, when the TGV railway line was built through northern France, 140 tonnes of military "hardware" was discovered and in an average year 90 tonnes are found in the Somme region alone.
Farmers leave unexploded ordnance by the side of the road where experts from the French or Belgian Army make regular collections and take them away for safe disposal. However, even after ninety years these shells and grenades are extremely dangerous and should not be handled under any circumstances.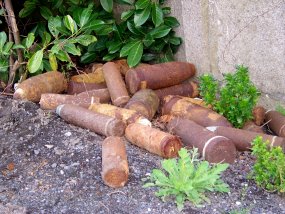 Some of the 'Iron Harvest' on a roadside in the Ypres Salient. Photo: Mark Sluman. Click on image for full size (1,097 KB).
---