Getting There
There are three main ways of reaching the First and Second World War battlefields of north-western Europe:
i) Car Ferry
This is still my favourite mode of transport to the battlefields. Although slower in actual crossing time than Eurotunnel, it always seems to be quicker in loading and unloading and the wonderful views of the White Cliffs and the French coast always make you feel that it's part of the holiday rather than just the journey there.
Dover to Calais – The most popular ferry route and almost certainly the quickest wherever you live in the UK to destinations along the old Western Front like the Ypres Salient, the Artois battlefields, the Somme, the Champagne battlefields and Verdun. There are numerous sailings to choose from and prices are competitive – if you block book early. With the liquidation of Sea France (January 2012) only the following company runs services on this route:
P&O Ferries at www.poferries.com/tourist/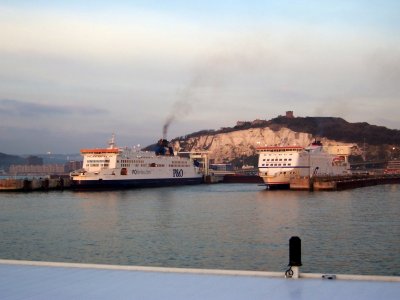 Photo: Mark Sluman.
Dover to Dunkerque – If you're visiting sites in northern Belgium (or the Dunkerque beaches themselves) you may want to consider using DFDS Seaways (formerly the Norfolk Line) services from Dover direct to Dunkerque. Because of the increased sailing time and the closeness of Calais by road (just 25 minutes away), there's probably not a lot in it if you're looking to travel to the Ypres Salient and, of course, there's less choice of sailings. For further information visit www.norfolkline-ferries.co.uk/en/dd-passenger.
Ramsgate to Ostend – Transeuropa Ferries now operate a private vehicle-only service from Ramsgate to Ostend, although with lengthy transit times. For further information, visit www.ldlines.co.uk.
Newhaven to Dieppe – LD Lines (Transmanche Ferries) have now started sailings on this route – the SeaCat having departed a few years ago. However, at four hours crossing time this will probably only benefit those living in East Sussex if they're thinking of touring the direct vicinity of Dieppe or travelling down to Normandy. For further information, visit www.ldlines.co.uk.
Portsmouth to Le Havre – LD Lines provide sailings on this route. Unfortunately, journey times are long and departures few. However, as the sailings run overnight, those prepared to forego some sleep may find this a useful way of maximising time spent exploring. For further information, visit www.ldlines.co.uk.
Portsmouth to Normandy – For those living in the Midlands, Wales, central South or South-West of the UK this route is a potential alternative if you want to explore the Normandy beaches and battlefields. Brittany Ferries run fast services into Ouistreham (Caen's port) and Cherbourg with journey times of 3½ and 3 hours respectively. For further information, visit www.brittanyferries.co.uk.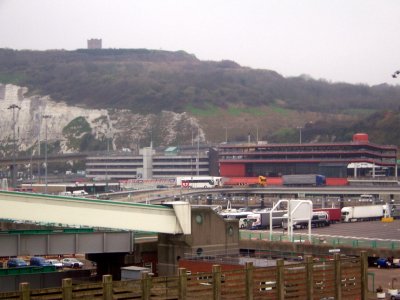 Dover Eastern Docks. Photo: Mark Sluman.
ii) Eurotunnel
The quickest way to get to the Continent in terms of journey time, although loading, unloading and passport control can sometimes drag and facilities are fairly limited once you're on the train. Of course, sitting in your car inside a speeding metal box inside a concrete tube isn't everyone's idea of travel and, if you suffer even remotely from claustrophobia, you'll be yearning for the open deck, shopping and restaurant areas of the ferries sailing above you!
Embarkation is at Folkestone – the entrance to the terminal being well signposted from the M20 motorway. For further information about Eurotunnel visit www.eurotunnel.com.
iii) Eurostar
The passenger equivalent of Eurotunnel, Eurostar provides an interesting alternative to taking your car. Terminals at London St Pancras and Ebbsfleet International in Kent whisk passengers to Calais, Lille, Paris and Brussels in a couple of hours. On the way back, if you upgrade to first-class, you can view the beautiful French and Belgian countryside with a glass of champagne in your hand and a delicious three-course meal to look forward to – an ideal end to a battlefield tour. This method of travel is a really good option if you're looking to visit the battlefields of Operation Market Garden in Holland. The Dutch railway system is superb and the train can easily reach most locations. Hire a bike and you're away! Change at Brussels Sud for trains to Amsterdam. For further information about Eurostar, visit www.eurostar.com/dynamic/index.jsp.
---