Home

Tracing Military Ancestors
Travel Advice
CWGC Cemeteries
Iron Harvest
News
Book Reviews
Glossary
Links
Contact Me

The Somme:



Aftermath
Total casualty figures for the Somme fighting have never been conclusively proved but, given the scale, intensity and length of the battle, perhaps that is not surprising. Official British casualty figures reported around 420,000 British Empire dead, wounded and missing. French casualties on the right flank totalled not much less than 200,000. The Germans did not issue casualty figures and there have been a number of estimates from officials and historians over the years ranging between 450,000 up to an incredible 650,000. This latter figure seems far too high but there can be no doubt that the Germans lost at least as many as the British with total casualties on all sides amounting to over a million men.
In an era thankfully where weekly war casualties for Britain are now counted in single figures, it is a sobering thought that the average daily casualty rate for the four and a half months of the Somme fighting was approaching 3,000. To put it another way, for every metre of progress made on the road from Albert to Bapaume, fifty men became casualties of whom twelve lost their lives.
Certainly, the scale of the slaughter in this relatively small area of northern France is undeniable even today. Wherever you travel there are the green road signs of the Commonwealth War Graves Commission pointing the way to small plots of hallowed ground – Luke Copse, Thistle Dump, Flat-Iron Copse, Caterpillar Valley, Delville Wood and Stump Road cemeteries to name but a few of the immaculate memorials to the fallen. Above them all, at the highest point of the German defences, rises the Thiepval Memorial to the Missing. Etched on its 16 pillars are the names of over 73,000 men of the British Empire and Commonwealth who have no known grave – long-dead witnesses to one of the most terrible battles in human history.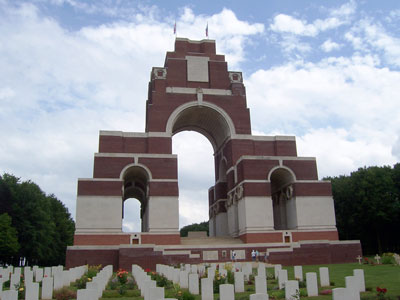 The Thiepval Memorial to the Missing. Photo: Mark Sluman. Click on image for full size (142 KB).
---